Sourdough bread and Japanese Saké — two things you never thought would go well together. Did you know that these have so much in common? And both have been making some buzz lately.
Sourdough bread has been making headlines and trending as a healthier, and some would argue a tastier alternative to commercially made bread. Saké, too, has received its fair share of accolades as a healthier alcoholic beverage when enjoyed in moderation.
Want to know more about the similarities between sourdough bread and Japanese saké? Keep reading to find out how they are made and what they have in common.
Ingredients
For sourdough bread, the raw ingredients used are agricultural products which go through a milling or polishing process. As most of us would know, we use flour (e.g. wheat flour) to make bread. If we mill or grind grains, nuts or seeds into a fine powder form we get flour.
As for saké, the rice used to make it is polished or milled to a predetermined size, according to the grade of saké that the brewer is aiming to make.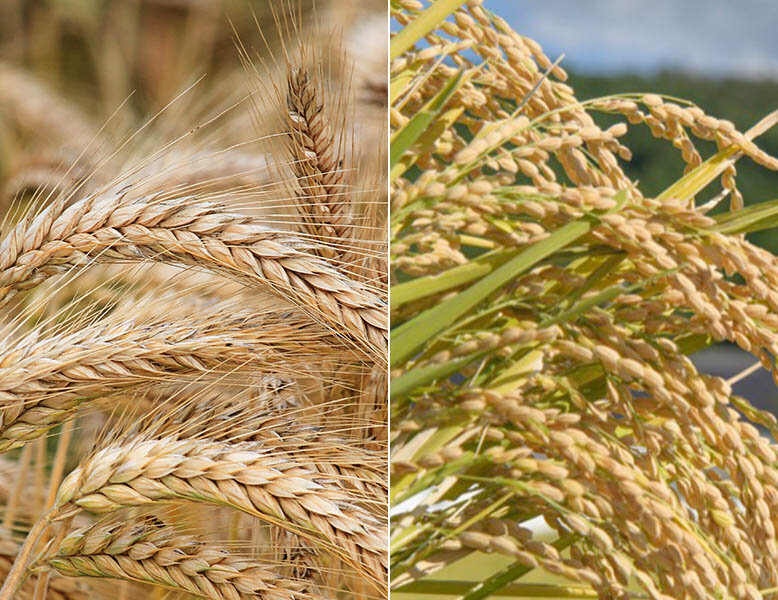 (Left) Wheat. (Right) Paddy before the husk is removed to become rice.

In both sourdough bread and saké, the protein levels in the grains affect the outcome. Choosing the right type of grains, whether wheat flour or rye flour, will depend on the objective the baker is aiming for. For bread, flour that has a higher protein level will result in bread with chewier texture and higher volume.
As for saké, the aim of polishing the rice to a smaller size is due primarily to the amount of protein content of the rice (besides lipids, minerals and vitamins). Think of it this way: a smaller rice grain has less protein and the sakés produced are generally softer, lighter and more aromatic like a Daiginjo which uses rice that has been polished down to 50 per cent of its original size or smaller. If you prefer a saké that has more body and structure, you can choose a saké, say a Junmai type that has a rice polishing ratio of 70 per cent which means only 30 per cent of the rice grain is polished off and will, therefore, have more potency.