In light of the recent pandemic, the United Nations World Tourism Organization has launched the #traveltomorrow campaign with the aim of encouraging people to forgo travel for now while still keeping a keen interest in exploration.
In this spirit of keeping wanderlust alive, we turn the spotlight to Tohoku. It's a fairly underrated region hailed by the National Geographic as "one of the best trips to take in 2020". Here are the four best spots — one for each season! — to visit in this delightful part of Japan once this chaos is over.
During spring, explore the beautiful Hirosaki Castle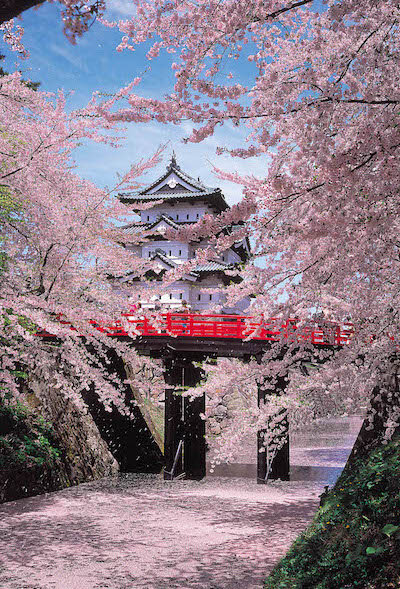 Cherry blossom season is one of the best times to visit Japan and few places are as spectacular in spring as Hirosaki Castle. Widely considered to be the best sakura viewing spot in the Tohoku region, this 17th-century castle that features a three-storey tower, fortified moats and corner turrets is located within the lush and serene Hirosaki Park. The public park has over 2,500 cherry blossom trees, and when in season, it covers the entire space in a blanket of soft pink hues. Peak hanami (flower-viewing) takes place around the last week of April and the first week of May when the blossoms are in full bloom.
In the summer season, catch vibrant festivals
In the warmer months, the entire region comes alive with a whole gamut of festivals including the popular Morioka Sansa Odori in the Iwate Prefecture. Listed in the Guinness Book of Records as "the world's largest drum parade", this event is a riotous celebration of colours and music with over 10,000 Taiko drummers and dancers performing on the streets of Morioka City.
Other noteworthy festivals include Aomori Nebuta Matsuri, which takes place in Aomori Prefecture. Named one of three biggest festivals in Tohoku, this vibrant event features a large procession of floats, each bigger and more visually spectacular than the next. Even if you happen to be in Aomori outside of the festival dates, you can still soak up the fun at the Nebuta Museum Wa Rasse which showcases the festival's rich history through various interactive experiences, including a session on how to make a float.