In #TeamClozette, I can say that I'm the resident Japanophile. While many people raved about K-culture, my allegiance towards J-dramas, animé, and of course, J-beauty never wavered. This is why I'm happy that J-beauty is finally getting the recognition it deserves, aside from global favourites like Shiseido and Shu Uemura.
However, I have to admit that since J-beauty is still hard to access here in the Philippines, I only tend to stock up on my skincare and makeup picks whenever I visit the Land of the Rising Sun. Some of the things that I hoard like crazy? Cleansers. While K-beauty is known for their famous balm cleansers, I've always loved Japan's take on oil-to-liquid cleansers, as well as the fascinating powder-to-foam washes. So you can just imagine my excitement when I was asked to review the Mika Ninagawa x FANCL Special Edition cleansers.
Made in collaboration with Japanese photographer Mika Ninagawa, the FANCL Facial Washing Powder and Mild Cleansing Oil were given a packaging that will entice you to pick them up. But is their pretty packaging as good as their performance? I draw my conclusions below.
Packaging
As I said earlier, by the packaging alone, this collaboration owns some bragging rights. After all, Mika Ninagawa is a renowned photographer and film director in and out of Japan, earning fame for her stellar flora and fauna photography, plus a couple of visually stunning films like Sakuran (2006) and Helter Skelter (2012).
Her signature "vivid nature" aesthetic is evident in the cherry blossoms featured in the collaboration's packaging. However, only the Mild Cleansing Oil featured a realistic image. The Facial Washing Powder only followed the collab's colour scheme, playing with pink and blue with a touch of small cherry blossom detailing in front of its bottle. While these two definitely added flair to my vanity, I'd say that the Mild Cleansing Oil's bottle wins, packaging-wise simply because it stuck to the theme.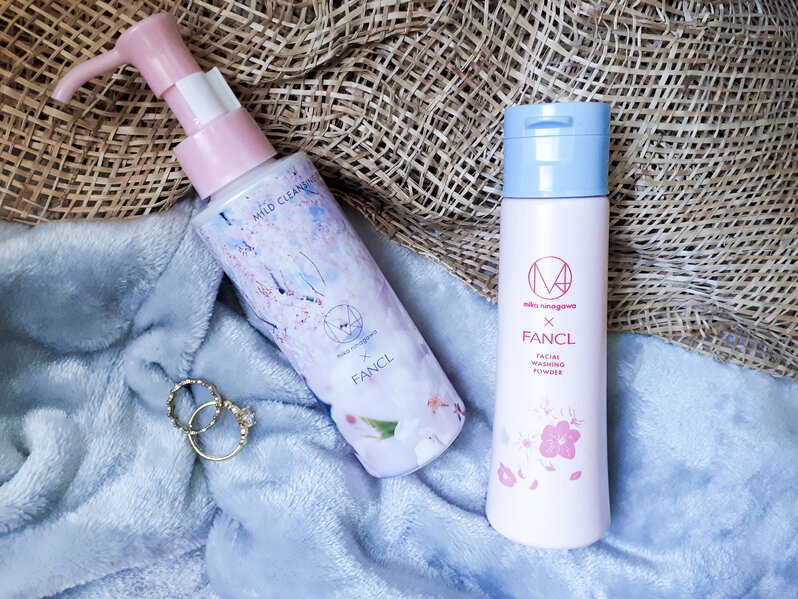 As for the other features, I'm quite used to Japanese oil cleansers having a clamp at the nozzle to avoid accidental spills and I'm glad that the Mild Cleansing Oil has it. As for the Facial Washing Powder, it's my first time to try this type of product because I've steered clear of these whenever I buy skincare products in Japan. I'm just scared of spilling products (I'm a klutz, tbh) and feel like powders are more prone to spillage than traditional foam cleansers. I know there are packet-types from other brands, but I just never really got around to buying one. I hoped that in trying this out, I'll change my mind.

Scent and texture
Both cleansers don't really have scents, which is a major plus in my book. I've tried a couple of Japanese cleansers that put me off because of their weird smell so I'm really glad these don't smell bad.
Left: the FANCL Mild Cleansing Oil is clear, lightweight, and non-sticky; Right: the FANCL Facial Washing Powder is finely milled, non-grainy, and turns to smooth, rich foam at upon contact with water
As for the texture, the FANCL Mild Cleansing Oil is actually pretty lightweight for an oil cleanser and didn't really feel icky or too thick in consistency, which is great. The FANCL Facial Washing Powder, meanwhile, is very finely milled and didn't feel grainy at all. I find this highly positive since it didn't seem to be too harsh to cause skin abrasions, nor did it ball up when I start rubbing it against my skin.